News and Updates
New Admission for session 2023-2024 is starting soon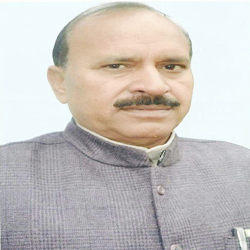 My heartiest congratulations to the Principal, staff & students of BHUVNESHWARI FAMILY who have gone through great lengths. May the Ideals of Love, Justice & Service be your guiding light in all that you undertake and may The Almighty God continue to shower his blessings on each of you. May you also be blessings to your family, relations, friends and all those you encounter in your daily lives.
Mr. Santraj Yadav — PATRON
Bhuvneshwari Inter College, Pipraich was founded in 1998 under the management of BHUVNESHWARI SEWA SANSTHAN, with the aim of providing quality education to the people of Pipraich and nearby villages. The institute was founded by Late Dr. Awadhesh Kumar Pandey, who pioneered a new type of religious life which undertook the education of girls as its main work.
The school strives to provide a sound moral education while devoting special attention to the intellectual, social, emotional, physical, and spiritual development of its pupils. It aims to communicate a culture characterized by an ability to work and think sincerely and comprehensively.
At Bhuvneshwari Inter College, we believe that education is a lifelong learning process, and learning happens all the time, not just in a designated place called the school. Our mission is to provide a learning environment and opportunities to children as learners, both at home and at school.
Our distinctive academic programs and innovative teaching methodologies encourage students to develop critical thinking and learn through inquiry and reason. We encourage them to exchange thoughts and ideas, develop key personal and social values, take ownership of their choices, and set goals to realize their unique potential.
The school follows a process-oriented way of teaching, wherein teachers provide children opportunities to explore a wide variety of materials. The child's enjoyment and learning through these explorations are given more importance than the final product or outcome.
We value parental involvement in a child's education process and encourage a partnership between parents and the school. This partnership is highly valued at BIC.
The school's underlying philosophy is to provide global education while being steeped in the rich Indian educational tradition and core values. Our emphasis is on creating a society of progressive, thinking individuals who will contribute to the intellectual development of the global community.
Our motto, "Education, Security, Discipline" (शिक्षा, सुरक्षा, अनुशासन), reflects our commitment to providing a safe and secure learning environment while instilling values of discipline and responsibility in our students.
We are proud of our legacy of providing quality education to the children of Pipraich and surrounding areas, and we look forward to continuing our mission of nurturing young minds to become responsible and productive citizens of the world.
At Bhuvneshwari Inter College, our mission is to provide quality education that fosters intellectual, social, emotional, physical, and spiritual development of our students. We aim to create a safe and inclusive learning environment that encourages critical thinking, creativity, and personal growth. We strive to nurture a sense of responsibility, empathy, and respect for diversity among our students. Our goal is to empower our students to become lifelong learners and responsible citizens who make meaningful contributions to the global community. We are committed to excellence in education and are guided by our values of love, justice, and service.
At Bhuvneshwari Inter College, we uphold the following core values:
Integrity: We believe in honesty, ethics, and transparency in all our actions.

Respect: We show respect to every individual, regardless of their background, culture, or beliefs.

Excellence: We strive to achieve excellence in every aspect of education and ensure that our students reach their full potential.

Responsibility: We encourage our students to take responsibility for their actions and to contribute positively to society.

Diversity: We celebrate diversity and promote an inclusive environment that welcomes people from all walks of life.

Collaboration: We believe in teamwork, cooperation, and communication to achieve our goals and provide the best possible education to our students.

Innovation: We embrace new ideas and innovative approaches to teaching and learning to stay current and effective in a rapidly changing world.
By upholding these core values, we aim to provide our students with a well-rounded education that prepares them to be responsible citizens, critical thinkers, and lifelong learners.
At Bhuvneshwari Inter College, we believe that education is not just limited to academic learning, but also encompasses the development of a child's personality, values, and skills. We strive to provide a learning environment that fosters curiosity, creativity, critical thinking, and social responsibility.
Our philosophy is centered around the belief that every child is unique and has the potential to excel in their own way. We aim to provide a holistic education that caters to the physical, emotional, social, and intellectual development of each child.
We believe in the importance of a strong teacher-student relationship, which creates a positive and supportive learning environment. Our teachers are trained to nurture and guide their students in their academic and personal growth.
We also believe in the importance of parent involvement in a child's education. We encourage parents to be active participants in their child's learning journey, and work collaboratively with them to create a supportive and positive learning environment.
Our ultimate goal is to empower our students to become responsible citizens of the world, equipped with the knowledge, skills, and values to contribute positively to society.